Poster Design/Human Factors: Improvements to GitHub Error Recovery
Objective
Github provides code repositories that end users can share with a larger development community. While developers love the programming friendly way to setup repositories, understanding the logic can be difficult for entry level users and self-taight programmers.
Specifically, the error messaging when a user ended up at an URL that seemed technically correct lead to a 400 error page that didn't redirect the user back to the intended page. As an entry-level programmer, it is already difficult to pick up a new skill; why not make Github more friendly to entry level users by providing more information on the error page?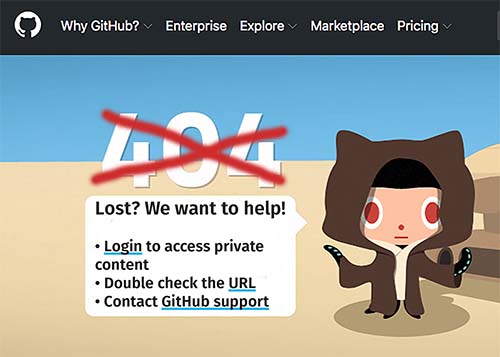 During the poster presentation, I spoke to Daniel Kahneman's theories on learning, and infused those with new ways to setup the error page messaging.
Insight
User Population
New users and aspiring software programmers are not familiar with Github's logic and flow of information
Goal
Language acquisition, especially later in life, starts with cognitive strain. The goal is for GitHub users to navigate with cognitive ease.
Behavioral Objective
During learning, recovering from an error needs to happen with ease. Otherwise, the mental energy that it takes to complete more complex tasks might become depleted.
To help users acheive desired behavior, consolidating choices based on scenarios can help users get back on track. A quick recovery can also save conscious learning for more difficult tasks.
Recommendations
Keep the GitHub cat - the figure evokes a fun trust.
Combine the cat's figure with helpful text.
Use the same error messaging across instances.
Persuasive Rationale
Anticipating the user's need through tunnling can get users to the right place.
Presenting error scenarios to the user, rather than suggesting an unspecified 404 error, will help users decrease cognitive strain.
A chat option can also provide another option for real-time recovery.
Measuring Effectiveness
Tracking link clicks and chat interactions with the new landing page design can help to determine which path is most common.
Skills Used: Poster Design, Design Thinking, Storytelling